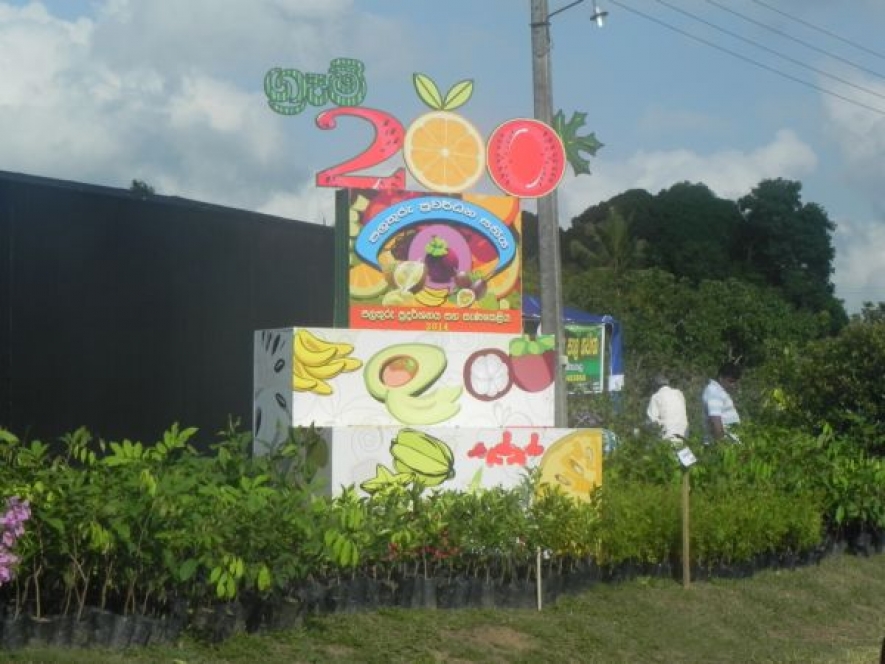 Fruit farming in Sri Lanka spreads around 150, 000 hectares. But 90% of fruit crops are only home gardens and therefore, it is hard to provide fruits for the demand in Sri Lankan market.

The aim of the initiative is to promote consumption of fruits and healthy lifestyles among next generation. The recommended daily intake of fruits is 200 grams per day. A report recently published by WHO and the UN Food and Agriculture Organization (FAO ) recommend a minimum of 400g of fruits and vegetables per day for the prevention of chronic diseases such as heart disease, cancer, diabetes and obesity, as well as for the prevention and alleviation of several micro-nutrient deficiencies, especially in less developed countries.

The problem of Sri Lankan fruit trade is that fruit harvesting season arrives only during few months of a year. Therefore in other months, fruit trade in the country suffers due to lack of fruits coming to the market. But, Sri Lanka is among the top countries in Asia which grows the best varieties of fruits and boasts more than 200 varieties that are suitable for consumption, including nutritious fruits like mango, jack fruit, Papua, pineapple, banana, avocado, orange and gauva.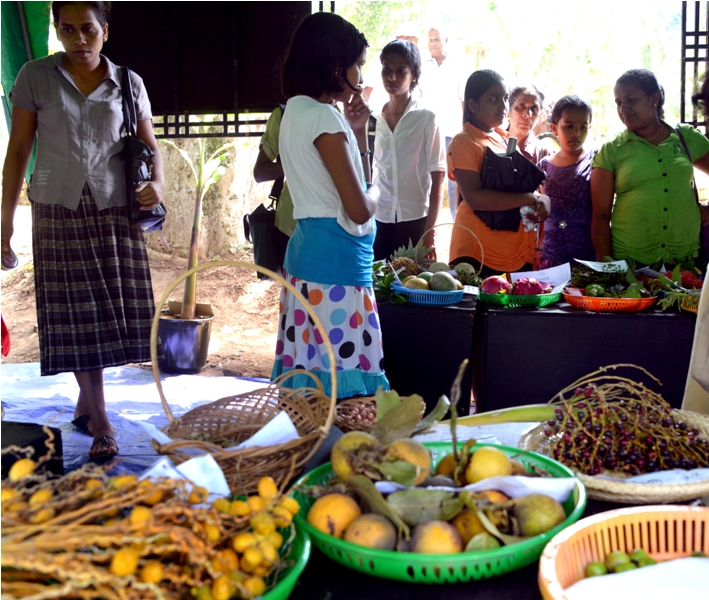 Parallel to the Fruit Week FCRDC has initiated number of special projects to develop fruit trade in Sri Lanka.
Project of Building Fruit Villages
Distributing fruit plants to farmers who are in adoptable villages will be done under the patronage of President Mahinda Rajapaksa in near future
National Project of Rehabilitating fruit trees
Initiated the project by distributing pruning tools valued 14.4 million rupees to trained agri-officers under the auspices of President Mahinda Rajapaksa at'200 gm Fruit Carnival' on 14th July.
Project to develop regions for producing fruit crop in off-season
Distributing fruit plants to farmers who are in adoptable villages will be done under the patronage of President Mahinda Rajapaksa in near future.
Project of developing inter-culture in crop plantation
>Among Tea plantation : cropping Rambutan, mandarin, Durian, sour sop, banana, avocado
>Among Coconut plantation: cropping Rambutan, mandarin, Durian, sour sop, banana, avocado, pine apple, Passion fruit, papaya, guava, rose apple
>Among Rubber Plantation: cropping passion fruit, papaya, pine apple, banana during first 03 years
>Distributing fruit plants to lands owners will be done by President Mahinda Rajapaksa in near future

Project on blossoming fruit trees in off-season
Distributing leaflets including technical information and particular hormones (such as MacLobuTrazole) to farmers will be done under the patronage of President Mahinda Rajapaksa in near future
Project to increase fruit consumption via schools
This project was inaugurated by opening a fruit shop at the Swarnamali Girls College in Kandy. A 200gm clean fruit pack is priced at Rs.25/- for School children at this Fruit Shop. Under the project Fruit Shops will be opened in several schools.
Project to introduce local species of Yellow mandarin and orange to public
Distributing fruit plants to farmers will be done under the auspices of President Mahinda Rajapaksa in near future.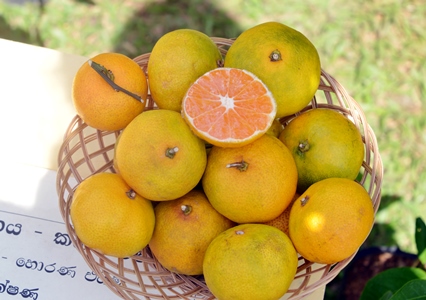 Project of fruit fly
The FCRDC has introduce a small to suppression this fruit fly. People can get free of this from FCRDC or can buy this from the any Nursery.
Project of Fruit packing and pricing to increase fruit productions
There are 05 Fruit packing and 05 Fruit Production centres in Hambanthota, Mathara, Nuwara Eliya, Mathale and Kurnagala.
Jiffy pots project
FCRDC has introduced Coir pots instead of traditional pots.
Project to cultivate fruit plants by Biotic Technology
The plants which are recherche can produce using this Biotic Technology. Through this technology have ability to cultivate more plants at once.
Moreover, FCRDC focuses combining tourism and fruit trade by commencing agri-tourism Farms and Gardens, Fruit markets and introducing local fruits to foreign market. Especially they have focused Hass (species of Avocado) which is one of favourite fruits in foreign market and which can be grown in Sri Lanka.

FCRDC joins together with both government and private sectors to carry out the projects successfully. Mahaweli Authority, Regional Agricultural Research and Development Centre (RARDC) Maha Illuppallama, Institute of Post Harvest Technology Research & Development Centre Anuradapura, Ministry of Economic Development (Divi Neguma project), The Sri Lanka Export Development Board (SLEDB) are the government partners of this projects. Nurseries, Fruit firms, Financial companies, Beauty production companies are some of the private partners.
Fruit Crop Research and Development Centre (FCRDC) has planned for the first time to establish a Fruit Association. Fruit Crop Research and Development Centre as an initial step appointed as a first step for establishing a Fruit Association A committee under the patronage of Minister of Agriculture . Mahinda Yapa Abeywardena was appointed to proceed with the establishment of a Fruit Association during the Gram 200 Fruit Carnival.
The committee consists of two research officers of FCRDC, two Senior Lecturers from the Universities of Peradeniya and Wayamba, three from SMAK and MD (Processing companies), two from Cargillls and Dole Lanka (Plantation), one from CR Exports, two from Madura and Madhushani Nurseries, one each from CIC, Unipower (Inputs) and EDB.
The public who are interested in growing furits in home gardens or for consuming, the specialists in the field, agri students and researchers, small or large scale entrepreneurs who are already in the fruit field and who expects to enter the field, land owners, farmers, cooks etc can join hands with this Fruit association, which will be established in the near future.
Moreover, Fruit Association aspires to afford technical knowledge in the field, raw materials, financial loans, solutions for difficulties of cropping, solutions for lack of market to the present or upcoming entrepreneurs who join this association. This Fruit Association will work among its members as a network system through interaction with fruit cropping and selling process not only to the local market but also to the international market. Llack of fruit markets will flourish through this network.
Further, FCRDC is going to build a Botany Culture Collage at the first time of Sri Lanka to accommodate the people who need the vocational training, knowledge and qualification from this field without considering age or educational qualification to learn practical and theoretical knowledge with the International certificate. Through all this projects and opportunities create the number of employments specially self employments in our country.
FCRDC opens to people including students, Researchers, Self employees, Farmers, Fruit companies and also can have ability to arrange the work shops, training and experiment for them. To further details, contact FCRDC by T.P: 034-2261626 or e-mail This email address is being protected from spambots. You need JavaScript enabled to view it.
SDF